Research & Development
The Traffic Scope is mesh-wised area traffic information which visualizes traffic fluidity and highlights anomalous congestions caused by big incidents, abnormal weather, suspension of railway service, etc. based on real-time floating car data. The Traffic Scope may help people to comprehend the structure of urban traffic congestions through mass media such as TV broadcasting, likewise for the rainfall map in weather forecast, and to encourage their travel behavior changes for more eco-conscious ways.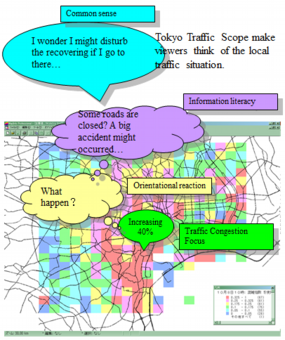 What is "Tokyo Traffic Scope"?
Traffic information system for TV broadcasting

Informs the public of the overall traffic condition in Tokyo.
Focuses on the information provision in case of big events, accidents and disasters.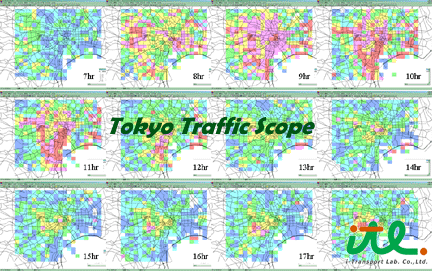 Features of Tokyo Traffic Scope

Use of probe data

Independent of the road network data
No need to use road data (Node, Link, etc.)
Applicable for the country which has the road network data such as developing countries

Long-time knowledge accumulation

New Indicators

Traffic Congestion Radar
Traffic Congestion Focus